As we become more and more dependent on mobile devices, the way we consume information is changing. Along with photo and video blogs, infographics have become the new tool by which marketers are sharing information across the globe.
Hallelujah! Finally, we have a way to provide real estate prospects and homebuyers with easy-to-consume, information-heavy content when they're on the go.
Or do we?
Infographics are quick, eye-catching and easy to view – on a mobile device, a tablet, or a home computer. Unfortunately, sometimes it seems like they're a little too easy on the mind as well, especially where real estate infographics are concerned.
Take a look at this infographic from Fixr.com about social media's affect on real estate.
Click the image to enlarge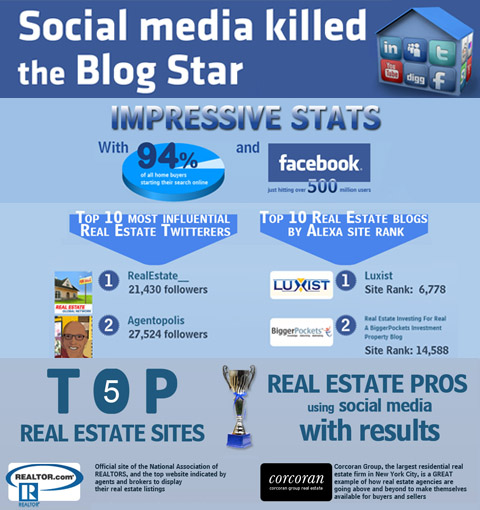 Via: Fixr
There's actually plenty of good information here. But there are also some serious errors. For example, the pie charts add up to 71%, 99%, 91% and 100%, which means that the visual of the slice sizes doesn't match the data. To maintain credibility, visualizations must match the data. Interesting but useless or wrong information doesn't help anybody get ahead.
And simply trying to present "words" in a graphical format doesn't work either. This infographic by SEOBook.com is attention grabbing at first, with its bright yellow background and retro-styled images. But there are way too many words! Even sprightly young folk who haven't found the need for glasses just yet are going to find this a tough read on the ol' iPhone.
Marketing Infographic by SEO Book
Think of the way USA Today uses graphics, a technique it virtually pioneered back in the early 1980s. It doesn't just scatter infographics anywhere and everywhere; it uses infographics to illustrate a story, more often than not, in a way that words cannot so effectively convey.
So what's the best advice I can give to those of us in the real estate industry looking to take advantage of this latest marketing tool?
Simply this: Try to create something that will help make peoples lives better. Develop content that helps people become proficient in an area of home buying or real estate that they knew little about before engaging with it. And take the time to understand what is valuable to your target markets. Your efforts will be rewarded.